Green/Cream Checked Day Dress & Evening Gown
Click on pictures for larger view.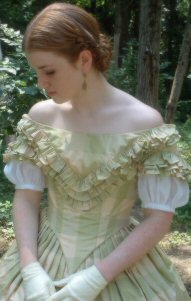 This gown is made of silk taffeta and has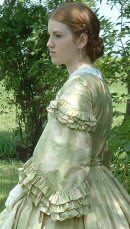 a day bodice as well as an evening bodice that can be attached to the skirt. The day bodice has large pagoda sleeves with a cap sleeve and three ruffles on each of the sleeves. The bodice is darted and has small square black glass buttons going down the front. The undersleeves are made of cotton voile and the collar I hand embroidered myself. (Sorry, but I do not sell embroidered collars.)
The bodice attaches to the skirt by basting stitches. These are easily removed when it is time to add the evening bodice on. The skirt has three ruffles, each hand hemmed and applied to the skirt by hand. (All the trimming has been applied by hand.)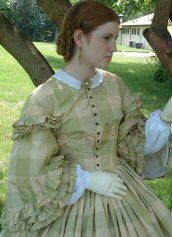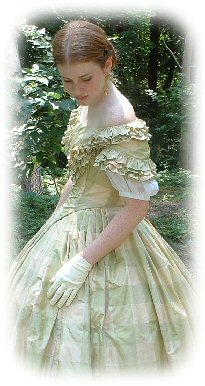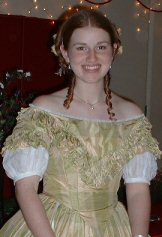 The evening bodice has three ruffles gown down the front in the shape of a "V" and ends in the center back. It also has three ruffles on the cap sleeves. The back closure is secured with a self fabric cord that laces through several hand worked eyelets. The front has a long center point and the back a slight point. The undersleeves are made of the same fabric used for the day bodice undersleeves. These have been basted to the underside of the cap sleeves. The neckline has a white cotton net tucker.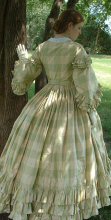 Note: The ball gown bodice in a few of these pictures does not have the tucker attached to it yet.